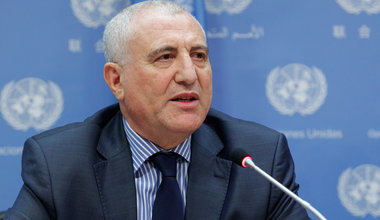 Mr. Said Djinnit
The Special Envoy
United Nations Secretary-General Ban Ki-moon appointed on 17 July 2014 Said Djinnit of Algeria as his Special Envoy for the Great Lakes Region. He succeeded Mary Robinson of Ireland as she accepted new responsibilities to be the Secretary-General's Special Envoy for Climate Change.
Mr. Said Djinnit served as the first African Union Commissioner for Peace and Security, after holding various positions in the Organization of African Unity, including as Assistant Secretary-General for Political Affairs. From 2008 until his appointment as Special Envoy for the Great Lakes region, Mr. Djinnit served as the Special Representative of the Secretary-General and Head of the United Nations Office for West Africa (UNOWA). He also served as the High-Level Representative of the Secretary-General to Nigeria, in support of efforts against Boko Haram. Mr. Djinnit served in various diplomatic missions of his home country, including as Chargé d'Affaires of the Algerian Embassy in Brussels, as well as Deputy Head of Mission in Addis Ababa. He holds a diploma from the Ecole Nationale d'Administration - Diplomacy, in Algiers. Mr. Djinnit is fluent in Arabic, French and English. Born in 1954, Mr. Djinnit is married and has three children
Donata Garrasi
Director for political Affairs in the Office of the UN Special Envoy for the Great lakes
Donata has more than 20 years of experience working with leading multi-lateral and bi-lateral agencies in the field of peace and security.  She started her career with the United Nations covering crisis affected countries in West and Central Africa, Rwanda, and Afghanistan. She then served as Peace and Conflict Adviser and Senior Stabilisation Adviser with the UK government, leading on various aspects of peace and political processes in Nepal, Sri Lanka, Indonesia (Aceh, Molukkus), and on stabilisation operations in the Middle East and Afghanistan.
Donata held senior positions with the Organisation for Economic Cooperation and Development (OECD) where she led the conflict and fragility portfolio, and with the World Bank for which she has recently been leading Recovery and Peacebuilding reviews and processes.  In addition to her close involvement with peace processes and political transitions, Donata has, in the last few years, been working on innovative approaches to attract business and investment in crisis affected situations, in the context of broader peace consolidation efforts. Donata is an Italian national.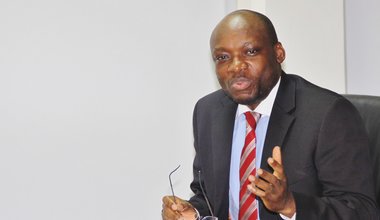 Mr. Aniefiok Johnson    
The Chief of Staff
Aniefiok Johnson is Chief of Staff, Office of the Special Envoy of the Secretary‐General for the Great Lakes region, located in the United Nations Complex in Nairobi, Kenya. He has acquired over 27 years of experience from progressively responsible positions in diplomacy and international relations, including: Foreign Service postings to the Permanent Mission of Nigeria to the United Nations in New York; the High Commission of Nigeria to Trinidad and Tobago, with concurrent accreditation to Barbados, Guyana and Suriname; the Nigerian Embassy in Bonn and Berlin, Germany as well as senior positions in the United Nations. He has provided strategic advice and mediation support to high‐ level UN and African Union Mediators, including Special Envoys of the Secretary‐General, African Union Co‐Facilitator and African Union‐United Nations Joint Special Representatives, in conflict resolution initiatives between the Government of Uganda and the Lord's Resistance Army (LRA), the Darfur peace process, and peace processes in eastern Democratic Republic of Congo. Prior to joining the Great Lakes office, he was the Head of Office of the Joint Special Representative, African Union‐United Nations Hybrid Operation in Darfur and Chief of Staff, African Union‐United Nations Joint Mediation Support Team, Doha, State